Site22: South India
South-West coast of India, including Lakshadweep Islands
| | | |
| --- | --- | --- |
| Standard products | Experimental products | Responsible partner |
| | | |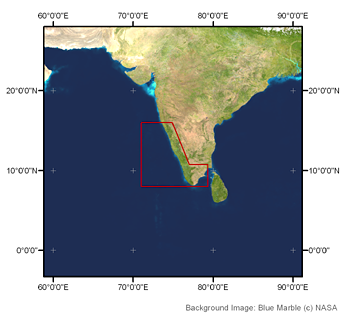 The south eastern Arabian Sea has some unique features, including the well-known reversal of monsoon, a major upwelling zone and the core location of Arabian Sea warm pool.
The high degree of seasonality in the physico-chemical characteristics induces strong biological responses such as episodic phytoplankton blooms. Coastal upwelling driven by monsoon winds causes nutrient enrichment in the surface layer and increases biological productivity.
The numerical abundance of phytoplankton has been found to be high during the upwelling period that lasts from May-June to October-November. Occasional phytoplankton blooms are associated with fish kills, and in rare cases resulting in paralytic shellfish poisoning in SE Arabian Sea.
Algal blooms of Noctiluca scintillans, Trichodesmium erythraeum are quite common in Indian waters. The events of harmful blooms by other species are increasingly reported from these waters. These blooms are quite significant in the context of coastal ecosystem dynamics and biogeochemical processes.
The recurrent incidence of such events necessitates the continuous monitoring through remote sensing.