Site27: Rio La Plata
Rio La Plata
| | | |
| --- | --- | --- |
| Standard products | Experimental products | Responsible partner |
| | | |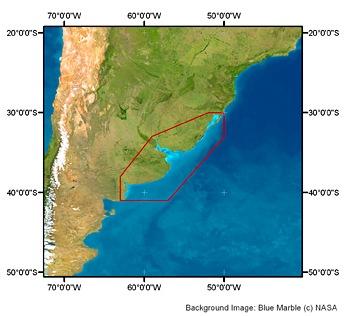 La Plata River estuary is an extensive (~3.5 x 104 km2) and shallow (<10 m) estuary which drains the second largest basin of South America, after the Amazon River, carrying high amounts of nutrients, suspended particulate and dissolved organic matter to the adjacent shelf waters. Very high values of total suspended matter (TSM) have been reported in this region, with mean values ranging from 100 to 300 mg l-1 and extreme concentrations up to 400 mg l-1. A surface turbidity front generally associated to the turbidity maximum is a persistent structure that is a characteristic feature of the estuary. It's mean position have been found to be strongly related to the bottom topography.
The estuary is an area of high economical and ecological importance. In particular, the region associated to the turbidity front is an area of enhanced plankton concentration and is the primary spawning and nursery area for many estuarine species that are commercially exploited and support coastal fisheries of Argentina and Uruguay. Samborombón Bay, located to the south of the river mouth, is one of the most important wetlands of Argentina and is home to a number of species of turtles, crabs and migratory birds.
Remotely sensed data provide good spatial and temporal coverage of the whole La Plata estuary resulting in a useful tool to map the river plume and to study their influence on the adjacent ocean. However, the accurate retrieval of in water constituents is hindered by difficulties with atmospheric correction. Therefore, such extremely turbid waters represent a challenge and an ideal scenario to test atmospheric correction and TSM algorithms.